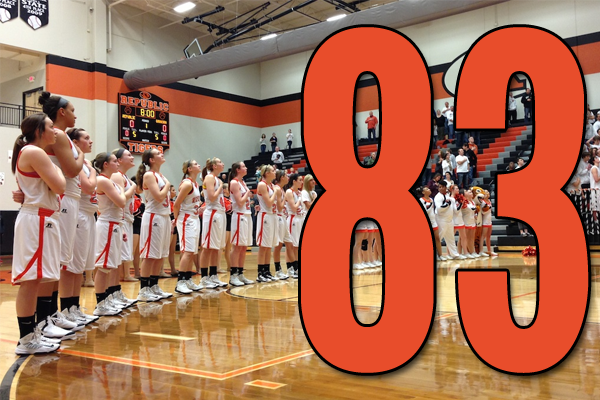 With five senior starters back from a state championship season, all eyes were on Republic's varsity girls to start the basketball season. So it took a few weeks for people to notice that, accounting for every team, the Lady Tigers were in the middle of one of the most successful seasons in Missouri history.
Combined with the 7th and 8th graders, the wins mounted for the Lady Tigers. Twenty in a row. Forty. The streak blew past 60 as the middle school teams wrapped up their seasons without a loss.
On February 2, the freshmen capped a 17-0 season by beating Ozark for a third time, running the streak to 76 in a row. The JV team ended its undefeated season against Ozark to make the streak 83 on February 14. That's when a cold shooting night finally caught up to the Lady Tigers.
In the follow-up game that night against Ozark, Republic failed to hit a three-pointer in the 1st half, and leading scorer Alice Heinzler was shut out by stifling defense. Heinzler caught fire in the 2nd half to get Republic back into the lead, but Ozark drained a couple of long-range shots in succession to regain control, and went on to record a 53-46 win.
At the time head coach Kris Flood was philosophical about the loss. ""It will help us, I think, in the long run," he says. "The only thing I'm concerned about, we've got to turn around and play another good team (Dexter) Saturday…Hopefully we can rebound and not let this one start a streak the other way."
Republic did rebound against Dexter, knocking off the state-ranked Lady Bearcats in Heinzler's best performance yet. They closed out the regular season without another loss, before falling to #2 ranked West Plains in the district championship game.
Still, the story of the Lady Tigers and their winning streak — which actually reached 89, stretching back to the end of last season — dominated the Republic sports landscape for two solid months. For that, you voted their story #3 on our list of top ten Republic Tiger Sports stories.